Sip and Socialize Hobnobber Event, 2015
If you missed the "Sip and Socialize Hobnobber Event", you missed one of the best events ever held at Degas House! Sip and Socialize on Wednesday, March 25, 2015, sponsored by New Orleans Magazine, was a tremendous success. Several hundred people attended the event. There were various activities, music and things to see all over Degas House and in the courtyard. Degas House was exquisitely decorated inside and out by Nola Event Planners.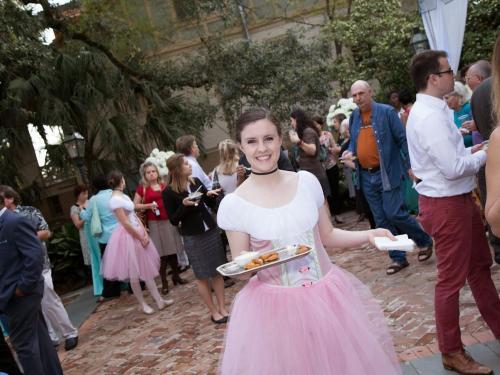 The evening began with guests "hobnobbing" as they enjoyed cocktails and hors d'oeuves. The hors d'oeuvres were passed around by ballerinas in recognition of Edgar Degas' many ballerina paintings. The ballerinas were from
Leila Haller Ballet Classique
.
A ceremony was held featuring the unveiling of a New Historic Marker commemorating the role of New Orleans and specifically, Degas House, as the turning point in Edgar Degas' career, directly leading to the Impressionist Movement of 1874 and beyond.
The importance of the marker, as explained by David Villarrubia, Director/Founder of Degas House, is that Edgar Degas was a co-founder in the Impressionist Movement, who resided in this home from 1872-1873 with his maternal Creole Family. The French Impressionist Master was profoundly influenced by New Orleans, which ultimately led to the painter's unique style and technique, as he described himself, "
Less complicated and more spontaneous, Better Art
". (Edgar Degas, February 18th, 1873 New Orleans)
Mr. Villarrubia gave a brief history of Degas House. Dana Lafonta from the Department of Cultural Development and Councilman Jared Brossett also said a few words. Grégor Trumel, the Consul General of France, praised the work David Villarrubia and his staff have done at Degas House, and then he unveiled the new marker. Cousul General's Cultural Attaché, Beatrice Germain, also attended.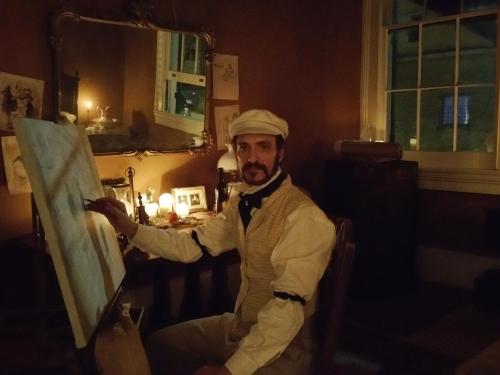 With newly discovered artwork in the Degas House archive, now relocated to the updated, more authentic studio and bedroom that Degas occupied during his 1872 visit, guests were treated to an authentic experience. The Artist in Residence program at the Degas House included artist/actor Carl Stevens in the role of Degas, working in the actual bedroom and studio of the artist for the month of March. Carl was a true asset to the Degas House at the event and brought a true sense of how the studio would have functioned during Degas' five-month sojourn to New Orleans in 1872-1873.
Music was scattered throughout the house and courtyard, provided by Danele, guitarist from Italy; Harry Mayronne, pianist; Steven Amaro, clarinetist, and Lisa Picone Love and Anais St. John were cabaret singers. Countdown Sound provided DJ service for guests to dance and beautiful up-lighting in the courtyard.

We thank the vendors who helped to make the event a success:
Event Rentals
FroYo (frozen yogurt)
Poppy and Mint (florals)
John-Michael Photographer
Short Stop Po-Boys
Whole Foods
One Smart Cookie
Bittersweet Confections
Drago's
The Half Shell
Acme Oyster House
Southern Eagle
Cook Me Somethin' Mister